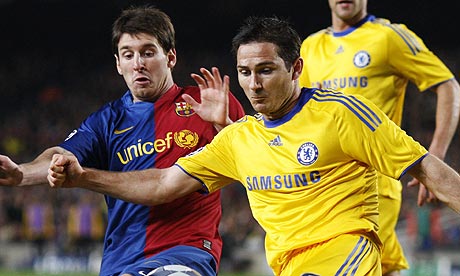 Oh dear, we seem to have upset the Barcelona players a little bit – mainly because they couldn't score against us. So, in good old Barca fashion, they're having a right whinge about it – aka, making excuses.
Fair enough, we parked the bus but surely if they were such a class apart, they'd have found a way around the bus? And personally, I think that's at the root of their frustration. Barcelona fully expected to come to Stamford Bridge next week with a clear advantage in terms of goals and it hasn't happened.
So, because they didn't get the result they wanted, they've come out bitching about the injustice of it all. First up we have Dani Alves – who really has some front after the way he threw himself to ground all night – whining  "Chelsea came here to draw and to ensure we did not score any goals. That's their style of play and they are not going to change it in the second leg.  But we are going to go there with full optimism and we are going to continue playing our own game and creating chances.  The semi-finals remain open and I am sure that we will have our chances at Stamford Bridge. They will have to sweat blood if they want to eliminate us."
I don't get his point though because as far as I could see, we showed we're prepared to work up more than a sweat against them if that's what it takes – and whether he likes the way we did it or not, the fact is Barcelona didn't beat us.
Anyway, on to Barca's 'choir boy', and Iniesta moans "We tried to play our football. All the while, we tried to attack and score a goal, but when the team in front of you do not want to play football, it becomes complicated.  The tie will now have to be settled in London. We will go there with a lot of motivation to score and to win. We hope that justice will be done and we can be in the final."
Again, since when has playing disciplined, defensive football been a crime? Or as I've said, is it more the fact he couldn't impress himself on the game as much as he'd hoped that Iniesta sees as the injustice? And surely if that's the case, then shouldn't the Barca midfielder be looking at his own game rather than ours? I'd said in the GuillemBalague interview before the game Iniesta lacked the necessary aggression when it came to fighting it out in a game and his lack of impact Tuesday night coupled with this whining afterwards suggests I might have a case.
Still, they're not done moaning yet because Xavi's put his twopence worth in and all, saying "It's not as if this is a terrible result but the problem is that we deserved much more from our performance.  We should have scored at least one goal because we were the ones who went for the victory, we were the team who tried to play football from start to finish.  Chelsea came out in ultra defensive mode but we still managed to craft four really good chances.  That suggests to me that the tie is still up for grabs.  Barca put on a show which our fans enjoyed and the only missing elements were the goals and victory which we deserved."
So, if I'm reading that right, Xavi's take on it seems to be that because Barca tried to 'play football', it follows that they deserved to win, which confuses me a little if I'm honest.  I mean, correct me if I'm wrong and if I'm honest I haven't watched much of La Liga this season so things might have changed a bit in Spain, but in the Premier League at least, both defending and goalkeeping are still a pretty important part of the game.  And of course, if you do both well enough you can stop spoilt bitches getting it all their own way.
On to their defence though, and Gerard Pique's opinion is pretty much the same, suggesting "Barcelona were the only team who wanted to play, and yet the reward is for Chelsea, even though it seems like they came for a draw.  At least we know we're superior because we showed that on the pitch." And it's this opinion that for me, gives away the real reason for their discontent. Barcelona went in to this game completely believing they were the superior side and as such, they'd come away with the result they expected. However, they didn't achieve what they'd set out to do and we did, so they've got a lot more to worry about in the return leg than they thought they'd have to.
Finally, we get to Samuel Eto'o, who says of the second leg "We will try to score there in order to relax, but they won't be able to play like they did today, with nearly all of their players waiting in their own half.  Nil-nil is not a bad result and we still have a great chance of getting to the final – a goal in London will change everything."
And I suspect what they're really worried about is what if that goal doesn't come from them?