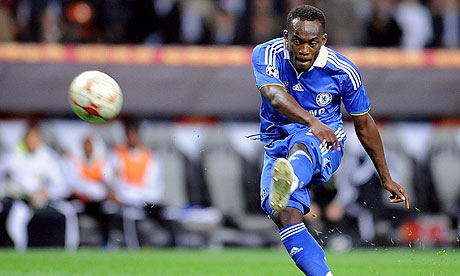 How much do Chelsea need Michael Essien?
No wonder they call him the Train at Stamford Bridge when he puts in the sort of performances he did at Anfield last week.
Now I'm not going to suggest the season would've been dramatically different if Essien hadn't spent the majority of it out injured, although I'm sure it would've changed the outcome of some games along the way. His absence was noticeable against Bolton at the weekend and never more so than when Lampard and Drogba went off in the second half.
The impact of his absence is something I wrote about as far back as November, when we'd struggled in the 'big games' and straight away when he came back – looking as if he'd never been away I might add – he made the difference. It wasn't just that he scored both in the Champions League against Juventus and then in the league against Citeh, it was everything else he brought to the games.
Michael Essien just gives us that something extra – as he proved while he'd got Steven Gerrard tucked firmly in his pocket last week. He completely ran the show, not only because his pass completion was second to no-one but also because he'd limited Stevie Me's passes to Torres to an embarrassing two and unlike his opponents, didn't need to resort to kicking lumps out of anyone. Hardly surprising this game had a completely different outcome to our two meetings in the league.
Essien's played just about everywhere for us: holding midfield; attacking midfield; right-back; centre-half and even on the right of a front three against Juventus and whilst attacking midfield is the preference for most of us, Hiddink's instruction to mark Gerrard out of the game against Liverpool really was a smart move – and it was a move Essien carried out to perfection.
Bloody good job the opposition missed out on him!