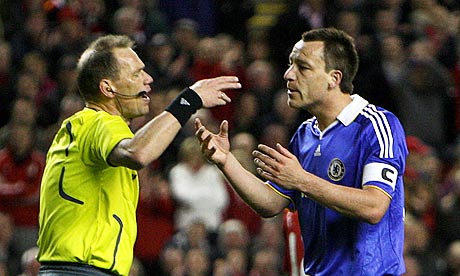 What is it about Chelsea, the Champions League and referees?
We've had Mourinho accused of forcing them into early retirement, we've had them seeing goals that don't exist and ironically enough, last year, we had Benitez suggesting they wear blue-tinted glasses. So what is it this year?
Well, embarrassingly enough, it seems we may have tried to put a little pressure on one of them before our game against Liverpool last week. Not arm up the back stuff or anything and we've yet to hear rumours of Abramovich getting the heavies involved but we are alleged to have 'had a little word'.
Apparently, at a security meeting on the morning of the game 'a representative from Chelsea' told the ref Claus Bo Larsen "You should just remember that we have some players who have a yellow card already and we are not so excited if they get one again."
Not that the ref paid any attention to that anyway because he booked John Terry who now misses the return leg, but Larsen says "I've never experienced anything like this.  We were quite shocked. I have been to more than 100 safety meetings and this is the first time I have experienced such a thing. Liverpool and Uefa and other people were there. I responded by saying that, if a player does something for a yellow card, then he gets a yellow card."
Chelsea have held their hands up to the conversation although deny the use of thumbscrews, stating "Uefa organisational meetings are opportunities for all parties to raise valid issues in relation to that day's game. Therefore, it was an appropriate meeting in which to raise the issue of both teams fielding players on yellow cards. Chelsea did not raise the issue solely in relation to Chelsea players."
Wasn't the cleverest thing to do though was it?