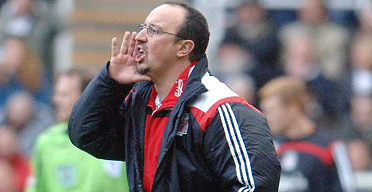 Ha ha, wasn't it only the other day I was saying Rafa Benitez is always having a laugh?
I mean if he wasn't so funny you could really hate him couldn't you? But for me he just comes across as a bit simple really.
He just doesn't seem to get his tactics right against us in the Champions League of late does he? Last year his whinges about referee bias and Didier Drogba diving got him nowhere and yesterday, his change of tact which saw him saying what a 'fantastic club' we are didn't seem to help him much when we battered them Wednesday night either.
Still, as he was at pains to point out before this game, Rafa insists this won't bugger up Liverpool's season, saying "The Premier League is a different competition so hopefully this will do nothing to our season."
And as if that isn't deluded enough, the FSW goes on the suggest "We are not really out of the Champions League. It will be difficult but it's football, anything can happen.  We have to do well, score three goals, and we will see what happens."
Ok, so you'll just score 3 against us and take it from there eh Rafa? No biggie really, I mean teams have been scoring 3 against us week in week out right? The man's lost it!