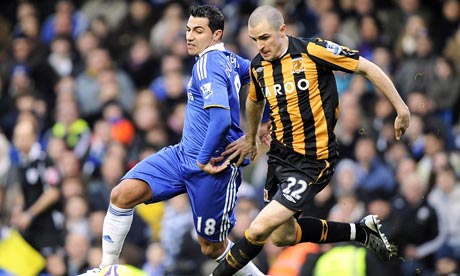 CHELSEA 0-0 HULL
With every game that passes, the idea of a season long prescription of Diazepam seems strangely appealing. Yes ok, I could always drink myself into oblivion but it'd all still be there in the morning – except I'd have a headache to deal with alongside the inevitable piss-taking that's coming my way. Not my favourite combination if I'm honest.  
But Diazepam, now there's a drug that might just get me through the rest of the season. Ok, we'd still play with all the conviction of a non-smoker sniffing an ashtray – wanting to give it a go but not all that arsed to make the commitment – but at least I'd be slightly oblivious to it. Fingers crossed my GP's not a dipper and I could just make it as far as May without turning into a total basketcase.
I mean, as much as I'd like to rant on about how woefully inept Luiz Felipe Scolari is and join the band of merry Chelsea men calling for his head, it's all becoming a bit old hat isn't it? Of course, I agree he doesn't appear to have a clue what he's doing in the Premier League but neither did Avram Grant and even he qualified for the Champions League with ease. I just happen to think that this season, our players are getting off way too easy while all the focus is on Scolari underperforming.
We played Hull at home for god sake. We played Hull at home and whilst yet again, we totally dominated the game, we didn't have a clue how to make that dominance count and could have ended up with less than the pathetic point we eventually walked away with. Of course they came for a draw, who doesn't come to Stamford Bridge for a draw these days? In fact, who hasn't come to Stamford Bridge expecting at least a draw in the last couple of seasons? And naturally, being the benevolent chaps Chelsea have turned into at home, they duly obliged again.
Not to be disrespectful to Hull, because at times they played some decent football, but with the exception of the odd break we dominated the game and really should have put it to bed in the first half. And yet, again, the half-time whistle saw our players trudge empty handed down the tunnel with absolutely no return whatsoever for all their huffing and puffing.
Unfortunately though, in this game the second half went pretty much the same way, although if I'm honest I'd have to say this was probably the first time this season where I genuinely didn't expect us to pop up with a winner towards the end. We just didn't look like scoring at all as the game went on and Hull could even have nicked it. And whilst it's fair to say Nicolas Anelka didn't exactly set the pitch alight – not that I expected him to after almost a two month drought in the league anyway – it's little wonder he couldn't impress himself on the game considering the lack of service he was getting.
And where else were the goals likely to come from? Certainly not Salomon Kalou who's finishing looked about as polished as Mike Riley's reffing skills (and sadly he was one of our better players). And what about our new signing? Fair enough he might have had a fairly quiet debut but how insulting to be subbed off for a player who's got about as much enthusiasm for Chelsea these days as I have for Liverpool's title 'challenge'. Nope, for me, John Terry's early sitter just about summed it up for me – no cutting edge, no confidence and we've had this result coming.
I've already said we've been woeful for ages but we've just about managed to ignore it whilst we were hanging on to United and Liverpool. There's no ignoring it now though because no matter what PR mumblings come out of the club from here on in, Chelsea won't be staging any fightbacks this season and even qualifying for the Champions League is looking pretty dodgy right now.
And with the Hull supporters' taunting chants of "This is the best trip I've ever been on" still ringing in my ears, even Diazepam isn't looking strong enough to get me through the rest of this season.
TEAMS
CHELSEA: Hilario, Bosingwa, Terry, Alex, Ashley Cole, Mikel (Belletti), Ballack (Deco), Lampard, Quaresma (Drogba), Kalou, Anelka.
HULL: Duke, Ricketts, Turner, Zayatte, Dawson, Geovanni (France), Ashbee, Marney, Kilbane, Garcia, Fagan.