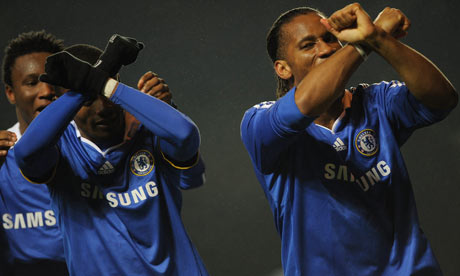 Salomon Kalou's goal celebrations against Middlesbrough last night had me raging when I mistakenly thought he was showing support for John Obi Mikel following his arrest for drink-driving.
However, it actually turns out the gesture is thought to have been of a political nature. Both Kalou and Drogba celebrated by making a 'handcuff' gesture and the suggestion is that this was in support of Ivory Coast activist Antoine Assalé Tiémoko.  Tiémoko was arrested in December 2007 after the newspaper he contributes to published an article on judicial corruption although, after being convicted of libel and contempt of court, was released from a year's prison sentence last month.
With the FA now set to investigate, Kalou has denied the celebration was political, with a Chelsea spokesperson stating "Salomon says there was nothing in it. He was just trying out a new celebration and it was a crossing of the arms. He also sometimes puts his hand over his face like a mask."
Mind you, the fact that Drogba also chose to 'try out' this new and rather unusual 'celebration' doesn't make his explanation any more believable.