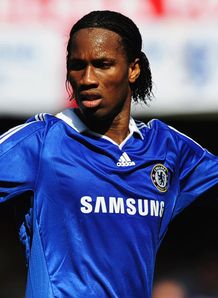 Didier Drogba is leaving. Didier Drogba is staying. He wants to play for the club. He doesn't want to play for the club. Scolari insists Drogba is staying. Scolari is unsure about Drogba's future. Drogba's heart isn't in it. Drogba is raring to go.
I'm pretty sure I have made my point already. For longer than I care to remember now, there has been speculation about Drogba's future at Chelsea. Now, as it all comes to the surface again for what feels like the 100th time, it is getting ridiculously tiresome. It is just a vicious circle of events and my first paragraph could probably be a list of Chelsea related headlines over the last year or so.
So, what's the latest? Well, despite being left out of the last two Chelsea squads, Scolari has revealed that the striker could return this weekend against Ipswich in the FA Cup. The Chelsea boss says that Drogba 'doesn't have a problem with me or the club'. That's that then, no more problems with this one…..if only it were that simple.
Scolari went on to say that Drogba is 'training very well' and 'starting to build his condition again'. A comment that suggests Drogba's fitness had something to do with his omission from the last two games. I can't say I believe that for a second, for what it's worth.
It was then claimed by Scolari that he 'doesn't have anything against Drogba' and that he made the right choice by selecting the two younger players – Stoch and Di Santo – for the victory over Stoke City at the weekend. Overall, Scolari is very defensive about the whole situation.
As we all know though, we have been here before. Before the season was underway Drogba was linked with a move to Inter Milan and throughout the current campaign there have been stories about his future.
In fact, there have probably been more unique stories about Drogba's future than the amount of games he has played this season. In my opinion, this is all part of the problem. Why so much fuss over a player who has netted just 3 times in 17 games?
Has there been many stories about Nicolas Anelka's excellent season? No. The Frenchman has been a virtual ever present for Chelsea this year and has found the back of the net 17 times. Despite this, it is always Drogba that is dominating the headlines. Even when Anelka scored a hat-trick against Sunderland, it led to speculation about what it meant for Drogba's future.
Tiresome is a word I have used a lot, but it seems so appropriate that I will use it again. The whole Drogba saga is tiresome, tiresome and a bit more tiresome. I have always been a fan of Drogba the player and his influence on Chelsea when he is in form is unquestionable. Especially in Europe.
However, at this moment in time, I feel that although his influence is still significant, it is far from a positive one anymore. Drogba is portrayed as bigger than the club and this isn't healthy.
Should Chelsea sell him in this window? I'm beginning to warm to the idea. It could be time to move on.
By Thomas Rooney – A sports writer who blogs about football betting