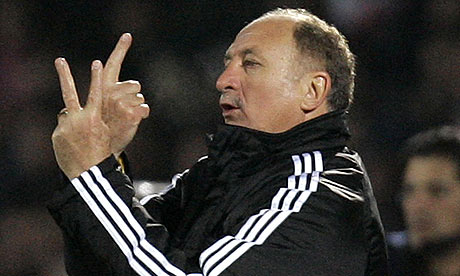 What's that saying? When the going gets tough, the tough get…….?
Now either Luiz Felipe Scolari continues to make light of everything Chelsea throw at him or he's a little weaker than previously credited. Because on a night where even a 1-1 scoreline away to Bordeaux in the Champions League couldn't raise more than the odd tear in a pint and a swift kick of the cat, the Brazilian is talking about packing his bags.
Ok, we were rubbish, in fact maybe we were a little worse than that and Frank Lampard ruling himself out for the now crucial game at home to Cluj didn't exactly help matters, but seriously, the Chelsea boss is ready to throw in the towel already?
On our woeful defending for the equaliser, a less than impressed Scolari stated "It was a bad goal to concede, because we are training hard every time on this. I think that is the first time since I've been here that we've conceded from a corner. At that time it was an easy game for us because they didn't try and shoot from outside any more. I am not satisfied with this goal. We are strong in this area, it's our first mistake in this area. It was not because the players relaxed. They made a mistake. We have detailed who marks the first post, who marks the second, who marks man to man, but we made a mistake."  
Not that, that explains our lacklustre performance overall, which to be honest just wasn't good enough. But anyway, Scolari went on to talk about our chances of progressing now, saying "We've lost two times now the (chance of) qualification.  We lost (3-1) to Roma and now this. We need to think about this and we need to discuss why. The qualification is in our hands and now we need to win the last game. I think that with these players, we have a 75% chance to win against Cluj at home."
The controversy though (well the headline for the press at least) came when the Chelsea boss stated "We need to win at home. I think if my team do not have the quality to win against Cluj at home, it's better that I go home to Brazil."
Mind you, whilst I'm sure this is just another tongue in cheek moment for Scolari, if we actually do go out against Cluj, I might just agree with him.