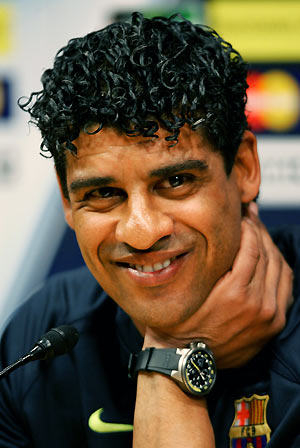 From the first day he took up the position of Chelsea manager, there's been a question mark over Avram Grant's appointment and rightly so, because let's be honest, it just didn't make sense did it? One theory at the time was that, as a man who'd loitered around the training ground, his face was at least known to the players so he could keep the hot seat warm til a permanent manager was acquired. He was widely believed to be simply a front man for the press,  with Abramovich pulling the strings – or playing a life-sized version of FMO8, take your pick. Above all theories though was the belief that his appointment was a temporary one and he'd either be replaced at the end of the season when the Russian has had time to go shopping for a new manager, or sooner if he made too much of a hash of it.
Well, here we are, nearing the end of his trial period, a time during which he hasn't brought the club to it's knees as most of us had expected, but his position looks no clearer now than it did in September. Despite us being in a much more respectable position than most of us could have imagined, I don't think many of us are convinced it's directly down to his management skills and I've little doubt the vast majority of us would feel a lot more comfortable once this thorn has been removed from our side.
From the minute TSO's services were so cruelly dispensed with (albeit with a less than cruel pay-off), speculation was rife as to who would be the next man brave enough to sit in the manager's chair. Let's face it, it must be about as welcoming as a place on death row – your life's made a misery with everyone talking about how long you'll last and you don't even get to sit in it that long before you're terminated!
Anyway, even after that terminally embarrassing press conference informing the world and his wife that TSO had been replaced by some old bloke who'd obviously just been hauled away from his cone arranging duties, judging by the sheer panic on his face, speculation continued as to who would be our next manager. And one name that has been linked throughout that time is Barca's ex Holland International, Frank Rijkaard. His appearance at Stamford Bridge in the wake of Jose's departure did nothing to dispel initial rumours although he took himself back off to Barca and all's been quiet until now.
Now we're told that Rijkaard, after a second trophy-less season is about to end his five year stint at Barcelona and try the Chelsea hot seat out for size. Not only that, but he'll be doing it with Grant's blessing. Rumour has it that Grant "is a modest guy who does not particularly like being in the limelight" and unlike his predecessor "(Grant) is not in it for personal glory". Is this the same Grant who was recently quoted as informing the world Chelsea "were on the way down" before he stepped in to save us? Little wonder then that the 'rumours' have been dismissed by the supposed source, who suggests his words had been misrepresented and the "reports in certain papers were totally misleading".
However, Rijkaard's name never seems to be far away as far as Chelsea management is concerned and his appointment would certainly make much more sense than the current one. One of the main reason's behind Jose's departure (aside from his inability to shut up), was Roman's desire for a certain style of football. Roman seems to have a 'thing' about Barcelona and wants to see that sort of expansive, attacking football at Stamford Bridge. He's definitely not getting that from Grant now, but Rijkaard reuniting with his former assistant – who just so happens to be at Chelsea already – might just give him what he craves. But will it happen?