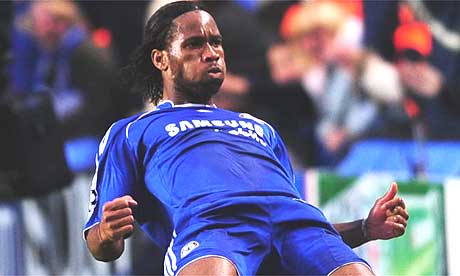 Shove that in your overactive cakehole Rafa!
Still pretty stunned here if I'm honest. Not just have we finally beaten the dippers in the Champions League, and got to out first final, but on the night we actually deserved it. Actually, stunned really doesn't cover it. Take every expletive you can imagine, roll them into one and even that still doesn't cover it.
After a really positive first half from us, going in a goal up at half time, the old Chelsea in me still couldn't predict the outcome. Old habits die hard and all that. And almost as if to confirm that, our second half brought back memories of games I'd really rather forget. Drogba seemed to have totally given up on the game and the rest were obviously considering early retirement as a preferable option as well. So the equaliser inevitably saw texts of "same old, same old" sent out to all and sundry. Oh ye of little faith indeed! But with extra time on the cards yet again, you could almost read the writing on the wall.
"We're too tired for extra time", "It's all over", "here we go again" – you name it, I said it – with the odd 'F' or two for good measure. And I'll even admit to throwing my hands up in the air when Frank stepped up to take the penalty. The cynic in me just saw the worst in everything. So, there's no-one happier than me that Lampard proved me wrong. And even Drogba got a new lease of life in extra time, so that totally shut me up –  although there was enough life in my lungs to summon a celebration, even if Babel's goal put a temporary gag on the proceedings – which, by the way Cech, I'd have saved in a pair of oven gloves! Torres' substitution almost made sense for a minute, until you questioned what exactly Rafa felt the risk was seeing as they've got nothing left to play for this season anyway – Quel Surprise!
As for Rafa, his face was a picture throughout. Having hurled bile in our direction all week with an arrogance that'd been unrivalled this season, reality finally seemed to be sinking in – the dippers would have to console themselves with their 'history' to bleat about again this season while we were busy making ours at their expense. And for the record Tubby, yes we all know Drogba "falls down easily" but thanks to you whingeing about it in the press for days on end he made damn sure he stayed on his feet tonight, so we owe you one really.
Should they have had a penalty? At the time I thought yes – and duly laughed my arse off – but now I've had the benefit of replays and a heart beating somewhat more normally than cardiac arrest status, then it's debatable. But no time for pity here, this was the dippers, this was for a place in the Champions League final and this was finally our year. Get in!!!!!!
KTBFFH.